Bathroom Remodeling Services From Lynchburg, VA to Washington D.C.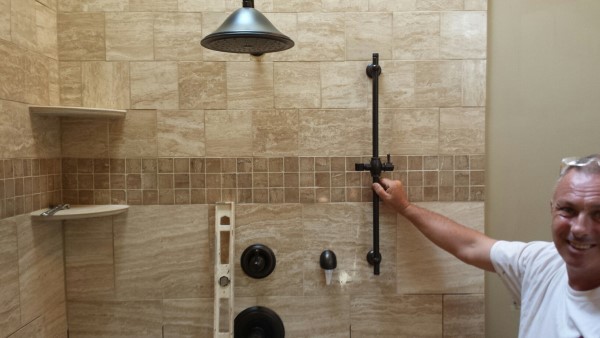 If you feel the time has come that you are ready for a Lynchburg bathroom remodeling project for your home, you have come to the right place. At CTG Green Building & Remodeling, we know what it takes to make the most of every project, every time. There are so many reasons to take care of this type of project; from updating to upgrading and everything in between. Whatever you want from your new bathroom, we can help make that possible.
We take great pride in the work that we do and it shows in every project we do. When we work with you for your new bathroom you will soon see all of the exciting options available to you. From countertops and flooring to cabinets and fixtures; it all comes together to create the ideal bathroom renovation. Get in touch with us today to get the final look you have always wanted.
Bathroom Remodeling Experts
The first part of the project is about implementing a budget, before we can move on to the actual design phase. After that, it starts with our expert design service in which we also take all the necessary measurements and plan the new layout. You will have to think about whether you want to work with the existing layout or make changes, which can make the process a little more intensive.
Our main goal is to be able to provide each and every client with nothing short of 100% customer satisfaction. We are dedicated to working with you to make sure that you understand each step of the remodeling process and that you are thrilled about every element involved. Before you know it, you are going to have the spa-like atmosphere of your dreams for your new bathroom.
Lynchburg Bathroom Remodeling
You cannot have the home of your dreams if you have any space or room in your house you do not like. The bathroom is one of the highest ranking rooms for ones that homeowners complain about not liking. In many cases, this room simply becomes outdated and becomes a functional room instead of one that people feel they can relax in at the end of a long day.
By calling on the CTG Green Building & Remodeling company, you can rest assured that you are going to love the final results. Let us work with you in order to help create the home of your dreams. We can show you options you never knew were available or simply take the ideas you have and transform them into reality. Give us a call today and let's get started.
Bathroom Remodeling services We Provide
Bathroom Faucet Remodeling
Bathroom Toilet Replacement
Bathroom Shower Remodeling
Bathroom Tub Upgrades
Bathroom Cabinets & Sinks
Bathroom Fixtures
Bathroom Tiling and Flooring
Bathroom Heated Floor Tiles
Bathroom Vanities & Lights
Bathroom Remodeling Photo Gallery
Recent Blog Posts on Bathroom Remodeling Remodeling
If you are looking for a Bathroom Remodeling company in Lynchburg, VA or Washington, D.C. area please call 434-426-4940 or complete our online request form.