Kitchen Remodeling Services From Lynchburg to Washington D.C.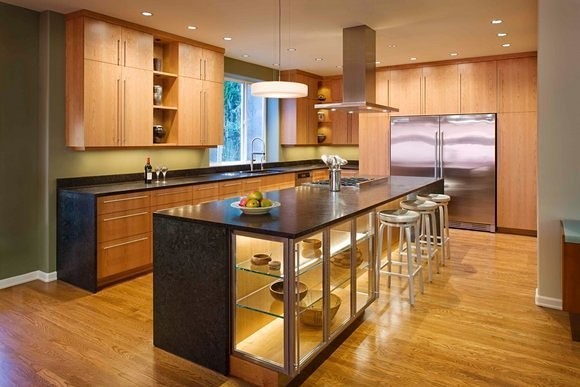 If you are in the market for an expert to take care of your Lynchburg kitchen remodeling, then you know you want to work with the best there is. In homes these days, kitchens have become the focal point and the centralized meeting place. Whether you are a gourmet cook or just the type of household to use the kitchen for reheating leftovers, this still ends up being the space in which families spend the most time. So it only makes sense to want to make this room comfortable, stylish and functional.
For many homeowners, this is the perfect spot in which to create culinary masterpieces or holiday feasts. It is the place where inspiration and motivation come together and you may start a catering business or home-based baking business. Or, it could be the place where you come to grab a bottle of water and microwave restaurant leftovers. No matter how you intend to use your renovated kitchen, we can help with the design and build part.
Kitchen Remodeling Services We Provide
Kitchen Remodeling Design
Kitchen Green Renovations
Re-do Kitchen Cabinets
Kitchen Paint Remodeling
Kitchen Appliance Remodeling
Kitchen Green Energy Remodeling
Kitchen Design & Build-outs
Kitchen Expansions & Add-ons
2nd Kitchen Additions
Kitchen Remodeling Specialists
At CTG Green Building & Remodeling, we apply a 3 step, full service remodeling approach. From start to finish or, in this case, from design tom build completion, we will be there every step of the way. This, of course, includes budget planning because you cannot launch a remodel without having a financial plan in place.
The first step is the measuring and we always believe in repeated measurements for verification. Like the saying goes, measure twice, cut once. From there we can move on to the layout. This is the actual design stage and we don't consider it completed until you are 100% satisfied. This includes making sure you understand your finish options and make the choice for your features, such as your kitchen cabinets, to complete the look. Finally, everything gets professionally installed.
Lynchburg Kitchen Remodeling
The bottom line is that we are there to take care of all of your kitchen renovation service needs, including our 5-year warranty. We go above and beyond when it comes to the work that we provide for each and every one of our customers and, now, we look forward to working with you and providing you with all of the superior quality work that you need and deserve.
No matter what your style or taste, no matter what function you want this room to serve, we can make it happen. We do more than just offer a Lynchburg kitchen remodeling, we help transform your current house into the home of your dreams, because every room counts. Give us a call today and let's get started.
Kitchen Remodeling Photo Gallery
Recent Blog Posts on Kitchen Remodeling
If you are looking for a kitchen remodeling company in Lynchburg, VA or Washington, D.C. area please call 434-426-4940 or complete our online request form.